You are here:
POWER CUSHION 56 - £85
POWER CUSHION 56 - £85
POWER CUSHION 56 - £85
Upper:

Double Russel Mesh
Durable Skin
Synthetic Fiber

Midsole:

ToughBrid Light
Power Cushion
Power Graphite Sheet
Power Cushion +

Outsole:

Rubber

Colour:

Black/Mint

Made in:

Vietnam

RRP:

£85
Authorised stockist:

Counterfeit Warning:
Share this product
The YONEX Power Cushion absorbs shock then reverses the impact energy for smooth transfer into the next movement.
Compared with urethane, the YONEX Power Cushion construction provides 3 times more shock absorbing power. When dropped from 7m above a Power Cushion sheet, an egg will bounce back 4m without damage.
Hyper msLite is a further 10% lighter than the original high-performance midsole and provides greater durability and comfort.
YONEX has created a midsole material – ToughBrid – whose molecules are arranged in a more stable alignment which provides greater elasticity and shape retention. As a result, the shoe continues to provide a high level of cushioning performance for longer, even under the stresses of fast, high-impact footwork. Players can now enjoy maximum comfort on court and reduce physical fatigue to achieve superior footwork.
For agile and stable footwork, the hexagrip pattern provides 3% more grip and is 20% lighter than standard sole material.
Double Raschel Mesh is an ultra fine mesh that is extremely lightweight and durable. It provides eight times more air-exchange for releasing moisture than ordinary mesh fabric.
A toe-centric design that cuts down on pressure in the big toe, as well as offering improved support at the mid-foot and heel for a stable fit. Power loss is reduced, allowing for swift footwork.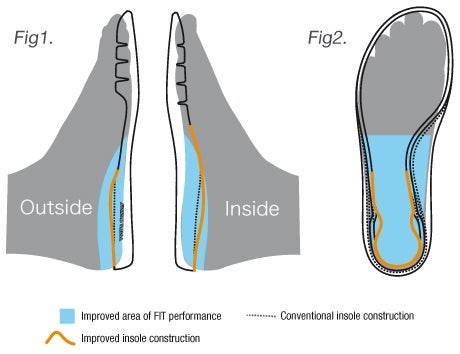 YONEX new Synchro-Fit Insole construction allows a closer fit between shoe and foot, keeping power loss to an absolute minimum to achieve smoother movement and quicker footwork.Fig1. Compared to conventional footwear, the mid to heel area on the insole is lifted to provide a closer-fit between shoe and foot.Fig2. By holding the heel more firmly against the insole, the gap between shoe and foot is reduced, improving comfort and ensuring the foot does not slip forwards inside the shoe.